Dropshipping:

Advantages and Risks for Merchants

"Dropshipping" is a buzzword that has been heavily hyped in the retail sector in recent years, which is unfortunately also associated with false promises and untruths. In fact, however, this logistics process has existed in Germany for a very long time - it was simply known as drop shipping or drop shipping - and it has proven itself in certain cases.



Dropshipping means quite simply: The retailer saves on warehousing and, if necessary, the construction or expansion of his own logistics by using a partner, usually a wholesaler, who takes on these tasks as a so-called dropshipper or third-party dealer. Manufacturers can also act directly as dropshippers. The retailer does not therefore have to have all the items that he sells in stock. The following applies to dropshipping: Only when an end customer orders the product does the dealer purchase it from his dropshipping partner and have it delivered directly to his customer. In this way, the retailer avoids tying up capital.

But: Dropshipping is usually not a substitute for your own offer. It is usually only operated as a supplement to the core range; it's primarily about optimizing your own product portfolio with the help of an additional delivery method. Business metrics provide insight into how retailers should distribute the range available for purchase across their own inventory and dropshipping.
Dropshipping (drop shipping) is a logistics method that is traditionally used by manufacturers, wholesalers and retailers. The retailer orders goods from the wholesaler, but receives them directly from the manufacturer. With e-commerce, dropshipping in the B2C sector has picked up speed: An online retailer offers its customers goods for sale in the shop that they do not have in stock themselves, but for which they have a partner, usually a wholesaler or manufacturer, can fall back on. When an order is placed, the details are passed on to the wholesaler, the dropshipping partner, who sends the goods directly to the end customer. As a rule, this does not appear to the end customer. The end customer, in turn, clarifies all his concerns directly with the retailer, be it questions to customer service or a return.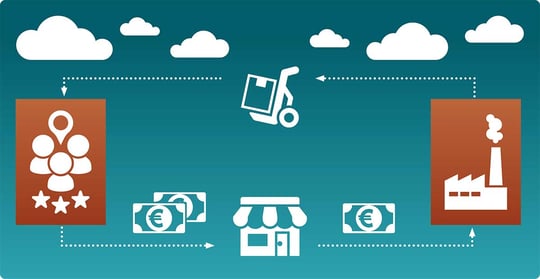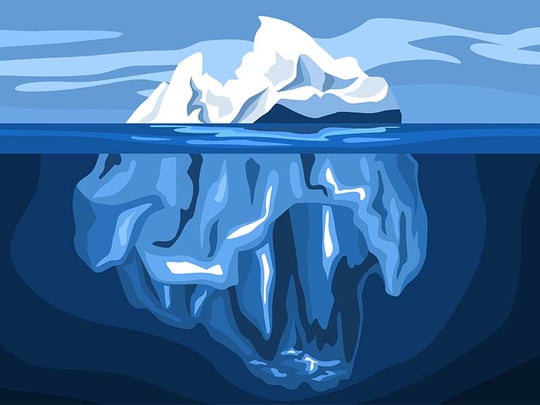 The omnichannel iceberg: Large backend processes are hidden
article
Drop shipping for e-commerce
Drop shipping can be a good option for brick-and-mortar retailers who want to get into e-commerce because it requires little additional seed capital. Dropshipping makes it possible to take the first steps online and open up new customer groups there without having to store large quantities yourself or trying out new products outside of the core range.

Thanks to dropshipping, omnichannel retailers can also expand their product range with only a small amount of capital commitment and leverage optimization potential in the product range on their various sales channels. For example, if a retailer wants to integrate Instagram shopping and gain initial experience, but has so far had a core range that is hardly tailored to the younger target group, this can be changed with the help of a third-party retailer.

Pros and cons of dropshipping
A major disadvantage of dropshipping, however, is that the retailer has much less influence on customer satisfaction. Even if the shop experience is positive — after clicking on "Order", the retailer relinquishes control because he cannot influence how well the goods are packed, how quickly they are delivered or check whether they are damaged. However, dissatisfied customers contact the retailer directly, who may have to ask the wholesaler first.
Low capital tied up in inventory
Less logistical effort and lower costs, e.g. B. for storage rent, packaging material, staff
Lower sales risk
Faster range expansion
Order peaks can be compensated
Increased focus on marketing and sales promotion
Disadvantages of Dropshipping
Uncontrollable inventories
Loss of control over packaging and shipping route
Less impact on customer satisfaction
Lower margins compared to direct sales
Cross-selling is made more difficult because there is no stock
Shipping items from different partners may result in higher shipping costs
There are mainly two types of drop shipping: from the wholesale warehouse and from the consignment warehouse.
Fulfillment from the wholesale warehouse
The online retailer can fall back on the entire range of the wholesaler. If an end customer orders via the retailer's online shop, the retailer buys the goods and the wholesaler takes care of the packaging and shipping. The disadvantage of this: It can happen that a product is still listed in the shop, but the item is no longer in stock and the end customer gets nothing.
Fulfillment from the consignment warehouse
With dropshipping, the wholesaler sets up a consignment store specifically for his customer, the retailer, in his own central warehouse; not close to the customer, as is usually the case with a consignment warehouse. The goods in it are exclusively available to him. The advantage: the supply of goods is secured. As a rule, however, this variant is associated with additional costs or purchase obligations.
Some sources claim that dropshipping is an easy and free way to make money. However, such statements and providers are highly dubious. Dropshipping is a service provided by another company, and they — rightly so — want to be paid for. Retailers who want to use dropshipping usually have to expect the following costs:
Minimum Turnover
In order to avoid small orders or one-off orders, most wholesalers require a minimum turnover.
Shipping Fees
The shipping fees are in line with the market and are usually lower than those for a single package from the parcel service providers, as wholesalers receive special conditions from DHL and Co.
Handling Fees
A flat fee per item is usually charged for picking and packing, also known as a "pick and pack fee".
Requirements for successful dropshipping
Software for real-time data
A challenge with dropshipping are the complex technical processes, which e.g. Inventory levels, purchase prices, shipping status and delivery times have to be shown in real time. Orders, for example, have to be passed on from the customer to the supplier via the online retailer, while delivery confirmations go in exactly the opposite direction. The system landscape must ensure that product data and stock levels are delivered in real time. The danger with stocks is, for example, that there will be oversales: A customer orders a product in the online shop that is no longer available.

In addition, the shipping status must be communicated from the dropshipper to the wholesaler and on to the end customer, ideally with a tracking number. This requires a system that automatically transmits such e-mails, otherwise the manual effort can quickly become too high.

Real-time data is also important for the trader as it can affect the calculation. If the wholesaler increases the prices, for example, the seller has to consider whether and how to pass these on to the end customer. If there are delays due to long intervals in data synchronization, this can sometimes lead to high losses.

And: Since dropshipping is sometimes operated with several suppliers, the complexity increases accordingly. The data should therefore be provided by all those involved in such a way that automated processing is possible, for example via interfaces.
Updating of individual elements of the product catalogue
If the wholesaler's product catalog is automatically transferred to the online retailer, this is useful in the first phase, in which the assortment is selected and built up. However, the online retailer has to adapt the product data and content to his shop. It is therefore important that such adjustments remain even after a new data import, i.e. it is possible to only occasionally update prices and stocks automatically.
The product must be packaged neatly and securely so that it reaches the buyer undamaged and gives a professional impression. Some dropshippers use branded packaging material from their partners. If this is not possible, the packaging should be neutral and do not allow any conclusions to be drawn about the wholesaler. All paperwork such as the invoice and return slip must show the name and address of the seller. If the supplier does not add them to the order, they must be sent separately by post or email.

In times of same-day delivery, customers also expect fast shipping as standard. It must therefore be ensured that the dropshipper can achieve short delivery times. Or the retailer must clearly communicate extended delivery times to the customer in order not to disappoint expectations.
Returns are usually not sent to the sender, i.e. the drop shipper, but to the seller. He must clarify how the return is to be handled. Wholesalers and retailers usually agree on RMA regulations (Return Materials Authorization) for defective orders or orders that customers do not like, which should then also apply in the case of dropshipping. For example, it is also determined whether the defective goods go directly to the manufacturer.
Customer service on dropshipping shipment
Customer service should be given special attention by merchants using drop shipping, as once a third party is involved, there is a much greater chance that something will go wrong. Delays in delivery, quick refunds for returns, necessary replacement deliveries and the like require a great deal of goodwill on the part of the retailer if he doesn't want to alienate his customers. He must therefore be prepared in advance to iron out possible difficulties of dropshipping.
Dropshipping: Support by the right software
Backend platforms such as the ROQQIO Commerce Cloud can merge and harmonize the data relevant to the ordering and delivery process. Features include:
Direct integration of third-party suppliers, resulting in lower risk of goods and increased readiness to deliver
Easy connection of all suppliers to our third-party supplier portal via a wide variety of ways
The inventories of third-party suppliers are fully included in the logistical order routing
No additional complexity for this sales channel thanks to transparent inventory calculation and optimization
Uniform external appearance through the optional provision of shipping labels and accompanying documents (delivery note / invoice)
Monitoring and supervision of drop shippers
Better integration of the entire payment and returns process
Central order management is very helpful, e.g. B. for customer support
How to find the right partner for drop shipping




Dropshipping must be firmly based on three pillars: quality of the products, fast delivery times and a high level of trustworthiness on the part of the partner, otherwise the perception of the retailer by customers and thus the business can quickly be damaged.

But how do retailers find the right partner? In fact, wholesalers often offer dropshipping as an additional service. It is best to ask your partners. However, distance yourself from providers who specialize in dropshipping or offer entire ready-made dropshipping shops; such offers are usually not serious. In the end, it's the same as with any business relationship: Nothing works without trust!

Unless you already work with a reliable wholesaler who also offers dropshipping, extensive research is required. Helpful Internet portals are, for example, "Wer Lieferwhat?" and the database of the Federal Association of Industry. Trade fairs and networking events can also be good opportunities to sound out potential partners and to compare providers and product portfolios. Check the products offered; a visit on site can often be useful. Also, start with a partner, because the integration of several companies in your processes can be very time-consuming, especially if you do not use central software to merge the data.

Be careful with partners who operate shipping centers abroad, because then it can happen that the dealer becomes the importer of the goods, whereby special legal regulations apply. In addition, there may be delays in delivery due to export and import regulations. If you are considering this option, you should seek legal advice.
Dropshipping has to stand firmly on three pillars

Quality of the products

Fast delivery time

High trustworthiness of the partner
Drop shipping is a comparatively quick option for retailers to expand their range. However, this does not mean that this procedure should be taken lightly. The important thing is to embrace dropshipping for what it is: a delivery option. Retailers should therefore also secure this method with sufficient capital, choose their partners carefully, consider their resources and options for customer service and returns, and rely on the automation of technical processes.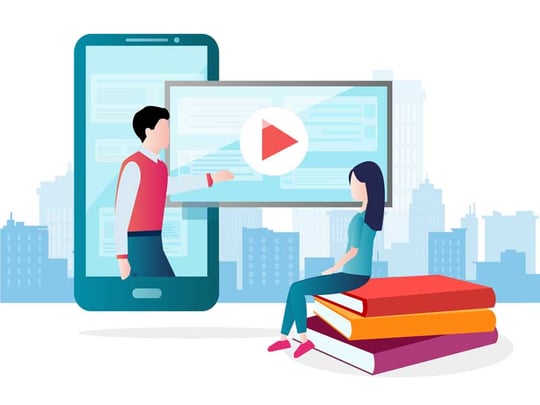 Online Presentation
Would you like to experience our solutions live? Request now a free online presentation.
Request now