Best Practice
Outdoor shoe specialist LOWA:
direct sales from
international warehouses
Summary
The company LOWA Sportschuhe GmbH from Jetzendorf in Bavaria, north of Munich, produces almost three million mountain and outdoor shoes every year. This makes it one of the leading brands in this area in Germany, Austria and Switzerland. Overall, LOWA sells its products in 75 export countries, with production partners in Slovakia, Bosnia, Italy and Croatia. LOWA's corporate presence on the web also includes a shopping offer. The ROQQIO Commerce Cloud supplies the LOWA online shop with inventory data and simplifies the connection of multiple sales channels and international shipping warehouses.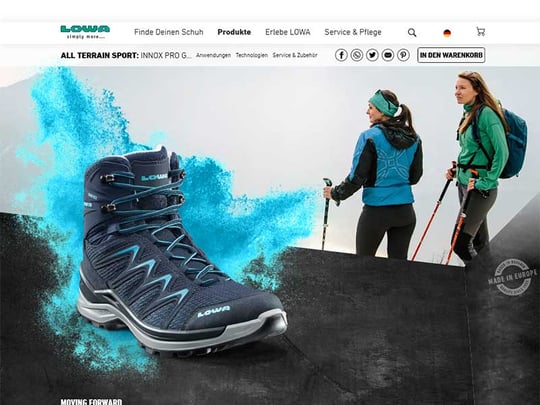 Target
The outdoor shoe brand wants to use the possibilities of e-commerce on its website and sell a defined selection of the range directly to the end customer via its own online shop. These are to be supplied from the LOWA warehouse in Jetzendorf near Munich and in future also from European sales partners, for example from the warehouses in Finland, Austria and the Netherlands. The LOWA products produced in Europe and ordered in the online shop should be able to be shipped to different countries.
We decided on ROQQIO because we needed a flexible partner for our system, which is fed by several individual warehouses, who has enough power to implement a European project in our interest. The high level of service and the uncomplicated, direct way of implementation has repeatedly confirmed our choice.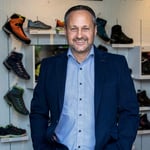 Solution
As a system in the background, the SaaS solution from the software provider ROQQIO ensures smooth shipping and returns processing. With the help of a routing algorithm defined with the sports shoe specialist, the ROQQIO Commerce Cloud allocates orders received in the LOWA online shop to the optimal warehouse. If a requested shoe, for example from the all-terrain sports collection, is available from several connected warehouses, an automated routing process prioritizes the goods call-off. If it is a multi-part order, the system checks whether everything can be sent from one warehouse or whether the order has to be split. At the same time, the ROQQIO Commerce Cloud keeps the end customer - on behalf of LOWA - up to date about their current order status via email and takes over customer communication right through to invoicing and any payment reminders.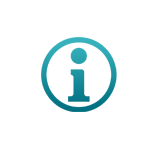 Customer-centric shopping experience
Today's customers are networked and move flexibly in the shopping world. It does not differentiate between devices and channels, but instead demands a smooth, fast and personalized shopping experience – in stationary stores, in online shops, via apps, marketplaces or social media. Retailers can therefore only achieve lasting customer satisfaction if they offer cross-channel sales and service processes. And the ROQQIO Commerce Cloud supports this.
Unified Commerce Platform
The SaaS solution acts as a control center and connects the agile world of digital commerce with the existing IT, e.g. with the ERP, payment service providers and internal logistics. The Commerce Cloud automates all relevant processes, facilitates the connection of additional sales channels and achieves a short time-to-market! With the ROQQIO Commerce Cloud, you align your technical infrastructure with omnichannel processes and receive the technical basis to make customer wishes come true.
It's the software
Maintaining articles, keeping inventories up to date, managing orders: thanks to its modular structure, the ROQQIO Commerce Cloud adapts precisely to existing systems and can react to individual requirements. This also increases your entrepreneurial flexibility. You can access different tools according to your needs.
Benefits of our e-commerce solution
Backend integration: flexibly connect shop systems and marketplaces and provide them with suitably prepared item data and prices
Fast implementation: Many e-commerce processes are predefined in the ROQQIO Commerce Cloud
Cross-channel: Harmonization of all information and data for existing system landscapes
This is how LOWA benefits from the ROQQIO Commerce Cloud
✔ Connection of several sales channels
✔ Connection to international shipping warehouses
✔ Interaction of different systems
✔ Automated processes
✔ Defined routing algorithm
✔ Connection of the payment service provider Unzer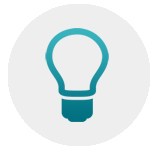 Benefits for LOWA
Flexible project implementation
High level of service
Routing control from international warehouses
Communication and billing to customers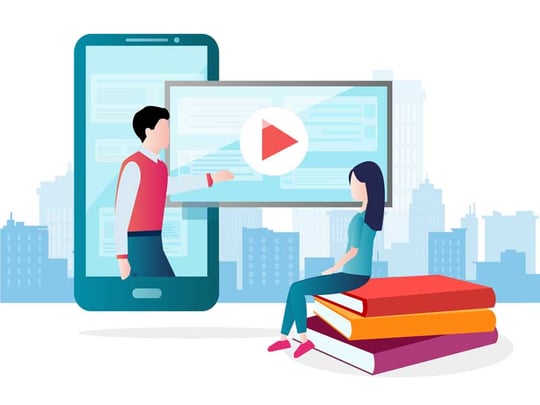 Online Presentation
Would you like to experience our solutions live? Request now a free online presentation.
Request now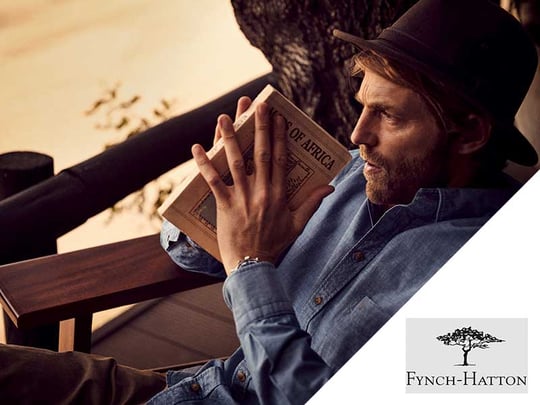 Fynch Hatton
Manage 1,500+ points of sale centrally, Generate Sales Reports, automatic Replenishment, Planning Purchase Limits, Files for billing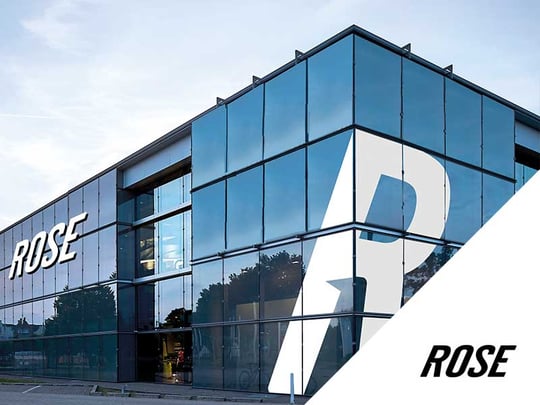 ROSE Bikes
Fully integrated Omnichannel Solution, Networked Touchpoints, seamless Customer Journey, decoupling of E-Commerce from existing IT, fast Time-to-Market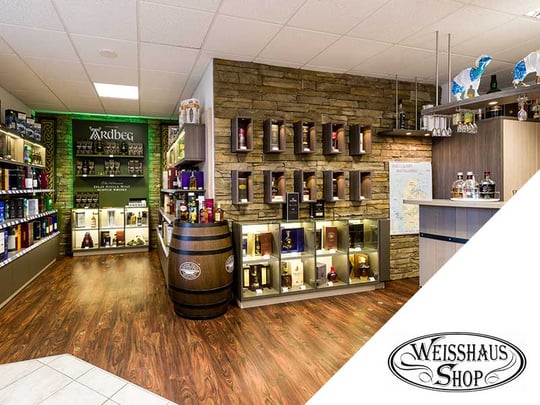 Weisshaus
Reduction of picking time, shortening of the Delivery Time, minimized Error Rate, Near-time customer communication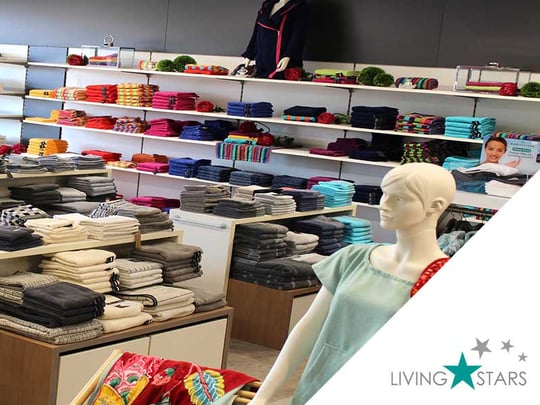 Livingstars
Real-time data on all Touchpoints.
Marketplace connection,
E-Commerce
Our Omnichannel Solutions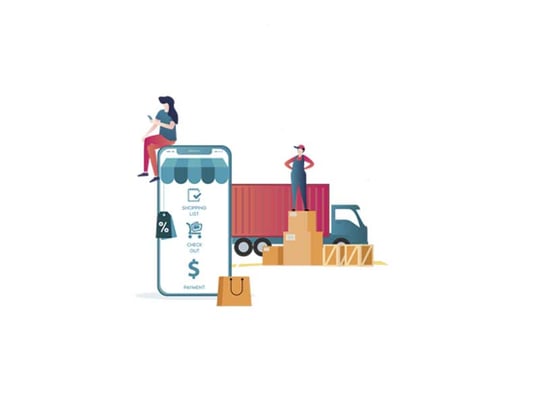 E-Commerce
Scalable SaaS platform for eCommerce startup and growth. Easy connection of sales channels and shipping warehouses.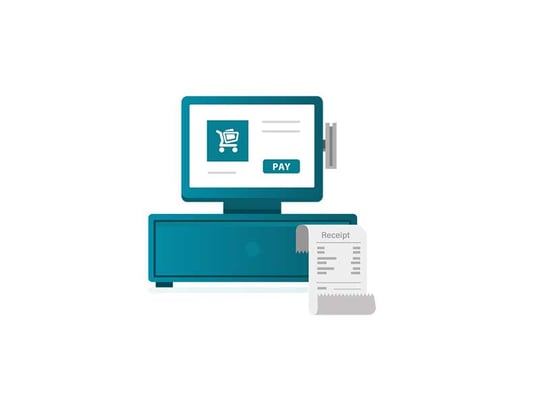 POS software
Check out with online cash registers in accordance with the law. Current stocks, customer loyalty, functional depth. For all non-food industries.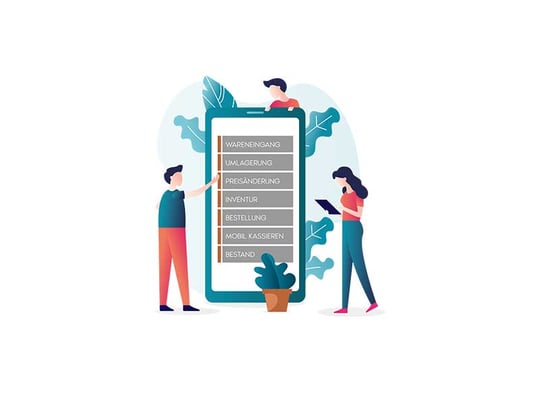 App
Manage back office and customer service digitally via app. For inventory, goods receipt, inventories, Click & Collect, mobile checkout.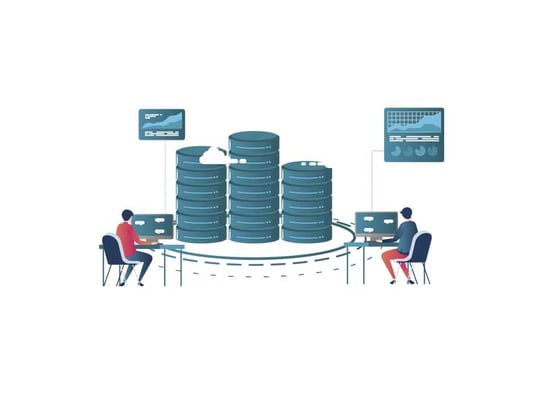 Inventory Management
Time-saving, automated planning, procurement, and control of articles. Inventory management system with live data.
Bildquelle: ©Romina Neumaier